Thursday, September 15th, 2011
I do love my new Fuji Absolute 4.0 that I got from Ferris Wheels on the tax holiday!  Of course, I had to get a good lock and cable (for the quick-release wheels) this time.  I added a rack, then went to Bikes Not Bombs to add those great (ugly but practical) wire folding baskets.  They each easily hold a full grocery bag and/or miscellaneous items.  I also added new pedals and clips, and a water bottle holder.  I still had my old Cat-eye headlamp and tail lamp, but REI didn't sell the clips, so I got them via the Cat-eye website, and bought a small brass bell at REI, to make my trip worthwhile.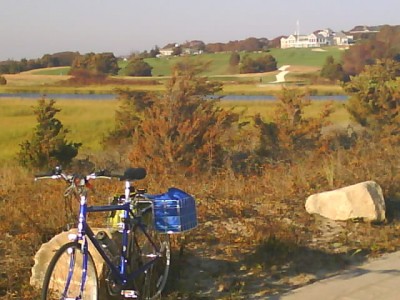 This past week, in addition to my usual commuting, errands, etc, I was able to fulfill a long-held desire by taking my bike with me for a mini-vacation. I took my bike to the Cape for several days.  Without a car, this was a bit of a challenge, but by timing a Commuter Rail ride from Forest Hills Station to my bus at South Station,  it became slightly easier to leave town.
I had no problem on my trek to Kalmus Beach, my favorite hangout. However, drivers mid-Cape seem to be either overly cautious (crossing the double yellow dangerously far into the oncoming lane) or they act like you are fairly irrelevant, especially on long, straight stretches where they drive fast, as if on the highway, brushing by mere inches away from you.  I didn't see any bike lanes in the Hyannis/Centerville/Craigville Beach areas.
Never-the-less, it was lovely to tour the various beaches in the area near my Dad's, as well as to navigate around the largest lake on the Cape, Lake Wequaquet, with my sister, in Centerville.  This morning I toured a nearby 7-acre nursery to buy a fall potted Mum for Dad, which fit in my basket.  Overall, I had no problem with the mild elevation changes on my 21-speed, and I even rode up to the Hyannisport Club to enjoy the sweeping view from above the Golf Course.
On my return trip home today, my bus was late.  I missed the CR train I wanted to take, so I rode from South Station over to that great sidewalk elevator at the Chinatown stop, which gave me instant entry to the Orange line, just in time to beat the 4pm "Bikes on the T" access deadline.   I usually walk a lot when I visit, but this was the first time in recent years that I was able to expand my excursions from my usual jaunts by biking. I loved it!  I'd definitely do it again, with better planning, and a lighter load!
~Wandering Woman on Wheels
(…who wonders as she wanders…)  🙂
~~~~~~~~~~~~~~~~~~~~~~~~~~~~~~~~~~~~~~~~~~~~~~
see also my JP Bikes blog for links embedded in this article.
http://jpbikes.ning.com/profiles/blogs/absolutely-fabulous